Be the first!
Be there on the 17th January 2015!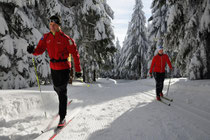 The very first Thuringian-Ski Marathon is happening and you have the great opportunity to be a part of it!
The track is leading through the UNESCO biosphere reserve "Vessertal - Thüringer Wald" (Thuringia Forest) and promises many fantastic views and impressions. The challenging rout profile in combination with the length of the Track is an awesome challenge for performance-oriented skiers but also an excellent choice for all those who focus on the fun of sports.
2.000 cross-country skiers are offered the chance to experience the Thuringia-Ski Marathon from the outset. So please make sure to book in time!
We will provide an exciting event program before, during and after the race as well as our extensive hospitality for you.
We look forward to this exciting event, to meet ambitious skiers and to build new friendships.
details:
17th of January 2015
43 km
952 meter uphill, 827 meter downhill
Limited to 2.000 participants
Registration starts 18th of January 2014
Race runs through the UNESCO Biosphere Reserve
"Vessertal-Thüringer Wald" (Thuringian Forest)
Start: Vesser, Thüringen - Germany
Finish: Oberhof, Thüringen - Germany
2 hours free entrance in the DKB-Skisport-HALLE Oberhof
Team rating
Type: cross country classic